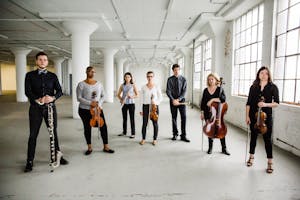 Frequency Series Presents
Zafa Presents: String Quartet +/-
8:30pm // $10 ADV / $15 At Door // 18+
Hannah Christiansen and Emelinda Escobar - violins
Yelley Taylor - viola
Audrey Q Snyder - cello
Josh Graham - marimba
Mixed instrumentation septet Zafa Collective often uses the string quartet as an anchor for their performances. This program, which features works by Eliza Brown, Gemma Peacocke, Alice Ping Yee Ho, Kaija Saariaho, and Leila Adu-Gilmore, uses the idea of the string quartet as the foundation of Zafa's instrumentation and then plays around with adding and removing a player.
Eliza Brown, String Quartet No. 1
Gemma Peacocke, Erasures
Leila Adu-Gilmore, if the stars align
Kaija Saariaho, Cloud Trio
Alice Ping Yee Ho, Evolving Elements
Zafa Collective was formed in 2016 by co-founders Hannah Christiansen (violin) and Casey Karr (double bass). Built upon the idea that classical music should be inclusive and accessible both in terms of programming and performance, The Zafa Collective actively seeks music from outside the canon of Western art music and from a wide variety of aesthetics. Zafa has a core group of seven musicians, and regularly performs with guest artists. This model of flexible instrumentation allows the Collective to choose their repertoire with no limitations.
A 2017 Sponsored Artist of High Concept Labs, Zafa has performed with groups including Chicago Fringe Opera and ~Nois, and has performed in a range of venues from Mana Contemporary to Constellation Chicago to the Poetry Foundation of Chicago. Find out more: www.zafacollective.com
"[t]his ambitious, polished contemporary music cadre programs frequently and inclusively [...] with consistently top-notch performances" -Chicago Classical Review