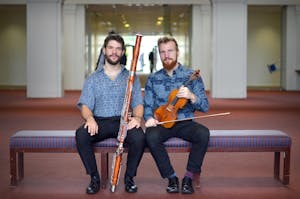 Frequency Series Presents
Wolftone // Katet
$10.00 - $15.00
Sales Ended
8:30pm // $10 Student / $15 GA // 18+
This program is partially supported by a grant from the Illinois Arts Council Agency.
Wolftone
William Overcash - violin
Ben Roidl-Ward - bassoon
Wolftone is a duo project comprised of Will Overcash (violin) and Ben Roidl-Ward (bassoon). Committed to testing the limits of the unusual violin/bassoon pairing, this duo is commissioning a bold new repertoire of works. Ben and Will met at the Oberlin Conservatory, where they were frequent collaborators as members of the Oberlin Contemporary Music Ensemble and founding members of the student-run contemporary music collective Semble N. They formed a duo in 2017 while studying in Rice University, and debuted with a US tour that featured new duos by Judy Jackson, Peter Kramer, and Zachary Sheets, supported by the Sviatoslav Richter Fund and the Lovett Traveling Fellowship. Wolftone has given workshops at the City University of New York and the Houston School for Performing and Visual Arts, and has also performed at ATELIERFRANKFURT in Frankfurt, Germany. In winter 2020, they present a new program of works by Christine Burke, Jonah Haven, Sky Macklay, and Jalalu-Kalvert Nelson, made possible by generous support from the Luminarts Cultural Foundation and the Illinois Arts Council.
Katet
Katet
Katherine Jimoh - vocals, piano, bass clarinet, songwriter
Jesse Langen - guitar
Tim Mulvenna - drums
Katet is lead by pianist, singer and songwriter, Katherine Jimoh and includes Jesse Langen on guitar and Tim Mulvenna on drums. When tonality is achieved in an utterly unpredictable way, Katherine feels satisfied with her songwriting. Complex harmonies matched with mixed meters, drones and repetitive vocal lines equals Katet.