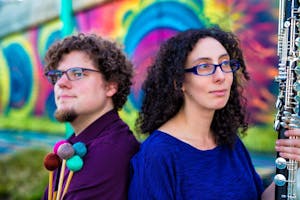 Frequency Series Presents
Transient Canvas with Michael Hall
$10.00 - $15.00
Sales Ended
Boston-based duo Transient Canvas joins Chicago-based violist Michael Hall for a collaborative concert.
Transient Canvas (Amy Advocat, bass clarinet and Matt Sharrock, marimba) continues its tour across the United States including visits to 18 states in the 2019-20 season. The duo is thrilled to make its Chicago debut with Chicago's viola and new music entrepreneur Michael Hall on a new program featuring trio works for their unique instrumentation.
PROGRAM:
a long the / riverrun by Nicholas Denton-Protsack
Strange Attractors by Roger Zare, WORLD PREMIERE
Meshulashim (2018) by Osnat Netzer
Viola Solo
Thread & Fray (2006) by Sarah Kirkland Snider
Now and gone (2013) by Daniel T. Lewis
Since 2011, Transient Canvas' innovative performances have been praised as "superb" by the Boston Globe and "disarming" by Cleveland Classical, with the San Francisco Chronicle lauding "the versatile imagination they both display and inspire in others." Bass clarinetist Amy Advocat and marimbist Matt Sharrock have amassed a varied repertoire of over 80 commissioned works in addition to working with hundreds of student composers from all over the world.
Michael Hall lives in Chicago and has performed and taught across Europe, Asia and the United States. Described by the New Music Connoisseur as "utterly masterful," andChamber Music Today as having "superb technique," he recently made his Chicago Orchestra Hall solo debut performing the world premiere of Kim Diehnelt's "Montegar,"and concluded a recital tour to Vienna, Austria and Udine and Tolmezzo, Italy.
Transient Canvas photo by Robert Torres