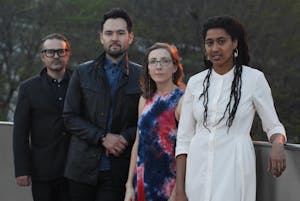 Tomeka Reid Quartet
$15.00 - $17.00
Tickets At The Door
Cellist Tomeka Reid debuts music from her new album featuring guitarist Mary Halvorson, drummer Tomas Fujiwara, and bassist Jason Roebke
The jazz polls might still list cello under the miscellaneous instrument category, but in the hands of Tomeka Reid it's an essential vehicle for unfettered jazz exploration. Old New, the second album by the Tomeka Reid Quartet, is a project that exemplifies why she's quickly become a definitive figure on the 21st century jazz scene. As a composer, arranger, improviser, bandleader, and impresario, she embodies jazz's progressive ethos. Crafting memorable tunes brimming with arresting textures and melodies, Reid creates music palpably connected to the tradition while recasting those sounds to meet her own expressive needs. Old new, indeed!
While Reid has recorded prolifically since making her debut on flutist Nicole Mitchell's 2002 Black Earth Ensemble album Afrika Rising (DreamTime Records), Old New is only her second album leading her own band, following up on the eponymous Tomeka Reid Quartet (Thirsty Ear). Like that 2015 release, the band's second album features a brilliant cast with guitarist Mary Halvorson and drummer Tomas Fujiwara, who play together in at least half a dozen different ensembles, and Chicago bassist Jason Roebke. It's essentially a string band, an electro-acoustic hybrid in which any player might take on bass, melodic or rhythmic responsibilities at any given time.
"I wanted to have a string-centered group," says Reid, who was recently voted Violinist/Violist/Cellist of the Year for the second consecutive time by the Jazz Journalists Association. "I wanted a harmonic instrument, but not piano and I wanted to go in a different direction. For this quartet I like Mary's manner of using pedals in interesting and creative ways. You can hear right away that it's her. I like that contrast with me being all acoustic in this ensemble."
Based in Queens since 2016, Reid wrote much of the Old New music with the support of a grant from Roulette Intermedium. The album opens with the title track, a slippery piece that almost serves as a manifesto for an artist consciously building on the work of her most adventurous string predecessors. It's a Reid original "that's an old form, a hymn," she says. In much the same way, "Wabash Blues" opens with Fujiwara's clattery trap work, a jittery introduction for an incident-filled soundscape inspired by the changeable energy of the Chicago block where she lived before moving to New York City.
Reid is as effective evoking people as places. "Niki's Bop" is a tribute to her dear friend and mentor Nicole Mitchell, a joyous, terpsichorean line that practically shimmies. "I could imagine her playing that melody on flute," Reid says. "She's a huge inspiration in my life. There's nothing better than writing a song for somebody."
Mary Halvorson was a source of inspiration for "Ballad" and the piece's coiled energy, conversational flow and wry asides seem to reveal facets of the guitarist that aren't necessarily apparent. "The melody reminded me of something about Mary's personality, sweet, no nonsense, reserved, and yet funnier than most people might know," Reid says.
Written for her maternal grandmother, "Sadie" is a boppish line that's as poised and elegant as the woman herself. Designed to feature Roebke, "Edelin" is a mysterious, slow-breath piece that takes on density as it goes. "Jason should be much better known," Reid says. "He does great, interesting work, and being in Chicago you can get overlooked. There are so many people doing interesting things there."
Reid closes the album with "Peripatetic," an Anthony Braxton-inspired tune that covers a lot of distance in a relatively short span, from the portentous opening statement to the skittery mid-section to the almost operatic conclusion. Speaking of gorgeous melodies, the pizzicato-powered "RN" offers a glimpse at Reid's love of pop music, with its incantatory refrain and unabashed lyricism. It's a sweet sign off, and an implicit promise that there are many more realms for this band to investigate.
If Reid's music seems to draw on a multiplicity of sources, that's because she's absorbed a mind-boggling array of influences in a relatively short period of time. Over the past decade she's collaborated with veteran visionaries connected to Chicago's Association for the Advancement of Creative Musicians (AACM), performing and recording with Anthony Braxton, Nicole Mitchell, Roscoe Mitchell (no relation) and the collective he co-founded, the Art Ensemble of Chicago. She's also worked closely with contemporaries such as drummer Mike Reed, cornetist Taylor Ho Bynum, and veteran masters such as Nicole Mitchell and pianist Myra Melford, among many others. Reid has embraced her role as a champion of creative string players, on and off the bandstand. "I'm a big advocate for strings in improvised music, particularly violinists, violists and cellists who are their own leaders," says Reid, who founded and runs the Chicago Jazz String Summit. "A lot of my projects are centered around string players."
"What's awesome as a cellist is that we can create a sound for ourselves," said Reid, who was recently awarded a prestigious grant from the Foundation for Contemporary Arts. "We do have a history, but not the same kind as trumpet, saxophone and pianists for example, with hundreds and hundreds of predecessors. I've come to appreciate that a lot more." With Old New, Tomeka Reid has staked another flag in the future.
Old New press release