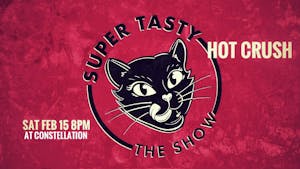 Super Tasty: Hot Crush
Super Tasty—an inclusive talk show about sex for everyone, no matter your gender, orientation, or preferences. Now in its second year!
Special Valentine's weekend edition—shorter show, longer post-show party (aka The Afterglow)! Are you flying solo? Fantastic! Are you in a couple? Great! A throuple? Fabulous! Everyone's welcome. We're gonna make sure you have fun.
Super Tasty—an inclusive talk show about sex for everyone, no matter your gender, orientation, or preferences. Interviews, performance, demos, and more! Chicago Reader Recommended: "A crazy, sexy, cool talk show" in a "welcoming, nurturing and erotic atmosphere."
ONSTAGE SHOW 8PM:
Performance: Burlesque artists Clitora Leigh and Lavender Vyxn will battle it out in the boxing ring of love in this special burlesque á deux as the audience watches up close! PLUS! Burlesque artist Miss Nyxon's in da house! Do not miss her special sizzle. AND! Musician-comedian Matt Griffo will bring the laughs with his fantastic songs.
Interview: SEXPECTATIONS How do you get on the same page sexually with a partner? What if you have no clue what you like or how to even begin talking about it? Host Karen Yates will interview Dr. Pia Holec, sex therapist/psychotherapist, about proven methods to help you gain clarity with yourself and partners.
Demo: SENSUAL MASSAGE—no, you don't have to be a massage therapist to bust out super special sexy moves that will blow a partner's mind! But let a massage therapist show you how!
Nina Lichtenstein will demo basic sensual massage techniques anyone can master.
Chat Topic: FLAMES OF LOVE—HOT, HOTTER, TOO HOT? Do you place unrealistic expectations on new partners or potential partners? Do you burn so hot things blow up? Or are you forever swiping left because folks aren't good enough? Check out this panel with sex coach Tazima Parris, sex-positive therapist Matthew Amador and more!
AFTERGLOW PARTY ONSTAGE IMMEDIATELY FOLLOWING SHOW:
-Special Florentine flogging demo set to music! Check out this double-handed technique!
-Hands-on sensual massage demo station with massage therapist Nina Lichtenstein. Learn up close!
-We will be announcing Super Tasty's new name! You'll be the first to know! Plus free stuff!
-Q&A with the panelists
-Interactive audience fun to help break the ice!
-Vendors with special sexy wares!
-Prizes!
-Plus free uberlube samples for everyone!
For more up-to-date info, pix, articles: www.supertastyshow.com
Instagram: https://www.instagram.com/supertastytheshow/
Facebook: https://www.facebook.com/supertastytheshow/
Sponsored by überlube, Full Color Life Psychotherapy, and Quadrant Motors.
Media sponsor: Rebellious Magazine for Women
The program will be 75 minutes followed by the Afterglow on stage till 10:45. Constellation has wheelchair seating and wheelchair accessible bathrooms. Free street parking on Western and Belmont.