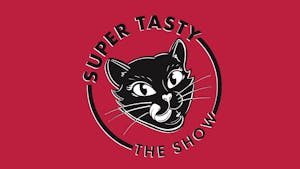 Super Tasty: Bare Necessities
Super Tasty: Bare Necessities
Nov 14: No more shame! Get body confidence!
Super Tasty—an inclusive cabaret talk show about sex for everyone, no matter your gender, orientation, or preferences. Expert interviews, performance, demos, more. Bring a friend! Chicago Reader recommended: "This crazy, sexy, cool talk show gives us the sex lessons we didn't know we needed."
CHAT TOPIC: Body Confidence in the Bedroom
How does body image affect sexual performance? Are there impossible standards of virility and beauty? How can you accept yourself as you are? With therapists Pat Cochran, Matthew Amador, and Niquie Dworkin!
INTERVIEW: Karen Yates interviews Carina Shero, fat model and IG influencer, and dancer/aesthete Jezebelly on body positivity and their burlesque troupe, The Femme FATales.
PERFORMANCE:
-Burlesque maestro Ray Gunn
-Burlesque dancer Jezebelly
-and more TBA!
DEMO: Take Off Clothes with Style
Audience favorite Chicago Academy of Burlesque returns to teach easy stripping basics. Impress partners with your moves!
Season Theme: KNOW YOUR BITS. Sex educator and researcher Ren Grabert will present an anatomy lesson at each show! How do all those parts work exactly? Remember: Knowledge is power. Power is sexy!
Meet afterwards for our post show, THE AFTERGLOW! Chat with show guests and be a part of the sex-friendly community! Peruse the sexy wares of local vendors! Sponsored by Full Color Life Psychotherapy, Rebellious Magazine for Women, and Quadrant Motors. überlube is the official lube of Super Tasty.
The program will be two hours with one intermission. Constellation has ample wheelchair seating and wheelchair accessible bathrooms. Free and easy street parking on Western Ave and Belmont.
More info at www.supertastyshow.com
Instagram: https://www.instagram.com/supertastytheshow
Facebook: https://www.facebook.com/supertastytheshow
Producer/Host: Karen Yates
Assoc Producer: Julia Williams