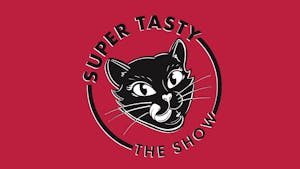 Super Tasty
Super Tasty: Bodacious Birthday Show
Super Tasty—an inclusive cabaret talk show about sex for everyone, no matter your gender, orientation, or preferences. Expert interviews, performance, demos, more! Bring a friend! Chicago Reader recommended!
Yes, it's our one-year anniversary. Expect returning audience favorites! AND CAKE!
Oct. 10 line-up:
PERFORMANCE:
-the Siren of Siam, burlesque artist Crocodile Lightning!
-Audience favorite, storyteller Deb R Lewis
-boylesque artist Jean Wildest!
CHAT TOPIC: Adult Playgrounds Near YOU!
We'll be bringing you the best spots to play in the Chicagoland area as party and venue hosts discuss what they offer and what to expect *exactly* when you walk through the door. (All preferences, orientations, and genders covered!) AND they will be taking alllll your questions. Current line-up: Steamworks bath house, dungeon Galleria Domain II, AWM swingers party, GirlBang, and the Midwest FemDomme party at LRA.
INTERVIEW: Platonic Touch with Shawn Coleman
How can you consent or not consent to touch if you don't know your body signals? We'll be talking with platonic touch practitioner Shawn Coleman about embodied consent and also learning more about the benefits of nonsexual touch and cuddling and how to create safer touch spaces for marginalized communities.
AUDIENCE QUIZ: Sex Champs
You think you know everything about sex? GREAT! Test your knowledge. There will be prizes!
PLUS Season 3 Theme: KNOW YOUR BITS. Sex educator and researcher Ren Grabert will present an anatomy lesson at each show! How do all those parts work exactly? Remember: Knowledge is power. Power is sexy!
Meet afterwards for our post show, THE AFTERGLOW! Chat with show guests and be a part of the sex-positive community! Peruse the cool sexy wares of local vendors, including Crescent Moon Henna! Sponsored by Full Color Life Psychotherapy, Rebellious Magazine for Women, and Quadrant Motors. überlube is the official lube of Super Tasty.
The program will be two hours with one intermission. Constellation has ample wheelchair seating and wheelchair accessible bathrooms. Free and easy street parking on Western Ave and Belmont.
On Instagram: www.instagram.com/supertastytheshow/
On Facebook: www.facebook.com/supertastytheshow/
Website: www.supertastyshow.com