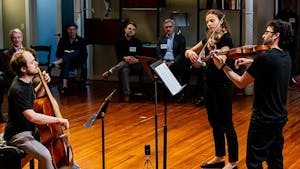 Stile Nu
$10.00 - $15.00
Sales Ended
8:30pm // $10 Student / $15 GA // 18+
Stile Nu
Anne Timberlake - recorders
Adriane Post - violin
Pauline Kempf - violin
Kiyoe Matsuura - violin
Reynaldo Patiño - viola
Paul Dwyer - cello
Wesley Shen - harpsichord
Carlo Diaz - artistic director
Building on the success of two prototype concerts in Amsterdam in 2018 under the leadership of Artistic Director Carlo Diaz, Stile Nu makes its Chicago debut. Drawing on a bespoke collection of fragmentary and anonymous 18th-century notation from archives in the U.K. and Italy, as well as familiar baroque and contemporary compositions pushed to the limits of their identity, this concert questions how much of historical performance actually belongs to the past and how much of it we invent in the present.
Stile Nu is an experimental baroque orchestra formed in 2018 to mine the darkest corners and deepest niches of an unknowable musical past. Through a union of compositional innovation and historical imagination, Stile Nu generates new music that belongs entirely to the past.
Stile Nu is the product of a collaboration between local and international performers, composers and artistic researchers associated with ensembles including the Lyric Opera Orchestra, the Toronto Symphony Orchestra, ACRONYM Ensemble, Haymarket Opera and Ugly Pug as well as universities and research centers including Leiden University, the Orpheus Institute, Northwestern University and Indiana University.