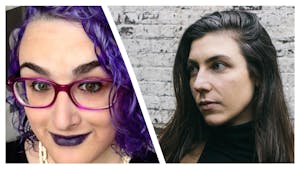 Frequency Series Presents
Spektral Quartet: Once More, With Feeling! w/ Alex Temple & Julia Holter
The latest installment of Spektral Quartet's fascinating Once More, With Feeling! series, with Alex Temple and Julia Holter
Spektral Quartet, Julia Holter, Alex Temple
An essential element in developing an infatuation for an unfamiliar work is to peek behind the curtain. Behind the Wallpaper is an alluring musical suite by composer Alex Temple – an irresistible musical creator and thinker – and performed by vocalist Julia Holter – one of the most enchanting singers touring today. Why not get everyone in the same room together to explore just how this wide-ranging piece morphed from an idea to a composition, and what ingredients are synthesized to create such a convincing musical narrative?
Spektral Quartet's Once More, With Feeling! series offers a rare second listen – on the same night – to an unfamiliar work, giving concertgoers the chance to deepen their appreciation and enjoyment of the music. On-stage conversation with the composer illuminates the subtleties of and inspirations for the music, and audience members are able to ask questions in the moment – making any worries or preconceptions about "not getting it" disappear.
Alex and Julia are artists well-versed in the rigors of classical music, but unconstrained by them or any preconceptions about genre hierarchies. The story is the thing. The pleasure of the music is the thing. The occasional contradiction of the lyrics and the music is the thing. But most importantly, listening to Alex and Julia talk about how to set an indelible mood, or coax listeners into an unexpected frame of mind, is a masterclass in artistic dexterity.
"...geeky, highly-interactive, creative and collaborative...unlike anything its intended audience – or anyone else – has ever heard." (Gramophone)