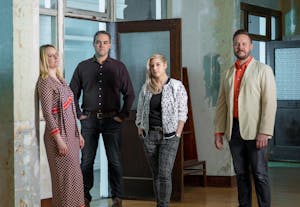 Frequency Series Presents
Spektral Quartet
The beloved ensemble premieres a new work by Chicago's Bernard Rands and eight others inspired by his music
Chicago is lucky to call the Pulitzer Prize-winning composer Bernard Rands one of its own, and Spektral Quartet is tenacious in their admiration for his artistry and ingenuity. So when the Chicago Composers' Consortium approached them about a celebration of – and tribute to – his music, they eagerly jumped on board. But the real coup is that the creatives behind C3 are writing the ensemble eight brand-new works, all inspired by – or actively mining – elements of Bernard's new piece.
Rands' music is utterly gratifying on an experiential level. But like touring a Frank Lloyd Wright home, digging into the details and the craft only gets more delicious the deeper one goes. What is so intriguing about this particular event is that, with each premiere activated by Bernard's unique voice, the listening experience will be something akin to viewing a Brancusi from eight different vantage points. What of Bernard's creativity does Lawrence Axelrod, Kyong Mee Choi, Timothy Dwight Edwards, Kathleen Cecilia Ginther, Martha C. Horst, Timothy Ernest Johnson, Laura Schwendinger, and Elizabeth Start consider the most inspiring? Spektral is as eager to find out as you.
***This commission of a new quartet by Bernard Rands is made possible through the generosity of Spektral friend and mentor, John Bierbusse.
"The Spektral Quartet likes to put on performances that are not so much concerts as high-energy thrill rides for musically inquisitive listeners." (Chicago Tribune)
(photo credit: Daniel Kullman)