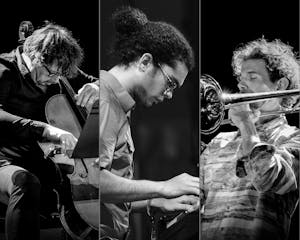 Reverso
the Russ Johnson Quartet
$12.00 - $15.00
Tickets At The Door
8:30pm // $12 ADV / $15 GA // 18+
Ryan Keberle - trombone
Fabian Almazan - piano
Vincent Courtois - cello
Reverso is a improvising chamber jazz project featuring Downbeat Rising Star trombonist, Ryan Keberle, world class French improvising cellist, Vincent Courtois, and special guest pianist Fabian Almazan. The trio performs original music that crosses the boundaries of jazz and classical music inspired by the early 20th century French composers Ravel, Poulenc, Milhaud, and the lesser known female composer, Germaine Tailleferre. The band has toured throughout the USA and Europe over the past 3 years to rave reviews from audiences and critics alike including performances in jazz clubs, theaters, churches, chamber music series, and performing arts centers. Watch Reverso perform live in New York City's St. Peter's Church here!
Reverso US Tour has been made possible through the Jazz & New Music, a program of FACE Foundation, in partnership with the Cultural Services of the French Embassy in the United States.
This concert is sponsored in part by WDCB.
Russ Johnson - trumpet
Greg Ward - alto saxophone
Clark Sommers - bass
Dana Hall - drums