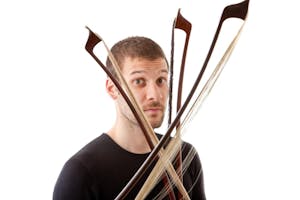 Frequency Series Presents
Kyle Bruckmann
Tim Daisy
uncanny valley - the double bass in the age of automation
Pascal Niggenkemper
Described by the New York City Jazz Records as "one of the most adventurous bassists on the scene" and by the Chicago Reader "genius for sound exploration" Franco-German bassist and composer Pascal Niggenkemper creates music bluring the lines between improvised, experimental and pure sound.
The focus of his musical work is the extension of the sonic horizon of the double bass: the acoustic sound modification using preparations.
His new solo work 'Uncanny valley' reflects on the shift that occurs in the work environment due to automatisation, exploring the interaction between human and machine by using an augmented double bass he calls cobonore (word construct btw cobot and & sonore). The instrument becomes a revisited device zoned into eight areas where motors are used.
Kyle Bruckmann & Tim Daisy
Former Chicago resident Kyle Bruckmann reunites with his long-term collaborator Tim Daisy for a program of new duo compositions for oboe/English horn and percussion with electronics. Bruckmann developed these works this past summer in response to visual artist Annabeth Rosen's exhibition Fired, Broken, Gathered, Heaped, thanks to the invitation of the Contemporary Jewish Museum in San Francisco.
Oboist Kyle Bruckmann tramples genre boundaries in widely ranging work as a composer/performer, educator, classical freelancer and New Music specialist. His creative output – extending from conservatory-trained foundations into gray areas encompassing free jazz, post-punk rock, and the noise underground – can be heard on more than 80 recordings from labels such as New World, Hat Art, Entr'acte, Not Two, Clean Feed, Another Timbre, 482Music and Sick Room. His ensemble affiliations currently include Splinter Reeds, sfSound, San Francisco Contemporary Music Players, Eco Ensemble, and Quinteto Latino; the most significant projects he has led or collaboratively founded include Degradient, EKG, Lozenge, and Wrack.
Since moving to the San Francisco Bay Area in 2003, he has performed with most of the area's regional orchestras while remaining active within an international community of improvisers and sound artists, working recently with Creative Music luminaries such as Roscoe Mitchell, George Lewis, Myra Melford and Rova Saxophone Quartet. From 1996 until his Western relocation, he was a fixture in Chicago's thriving experimental music scene. He is now Assistant Professor of Practice in Oboe and Contemporary Music at University of the Pacific, and also teaches at UC Santa Cruz, Davis and Berkeley.
Tim Daisy is an American drummer and composer working in the fields of improvised and composed music. Tim moved to Chicago in 1997 and since that time has performed, recorded, and toured with many national and international improvised musicians and ensembles.
He has also performed with Dave Rempis, Ken Vandermark,Jeb Bishop, Mars Williams, Steve Swell, Jaimie Branch, Katherine Young, Fred Lonberg-Holm, James Falzone, Russ Johnson, Kyle Bruckmann, Katinka Kleijn, Elizabeth Harnik, Christof Kurzmann, Ikue Mori, Rafael Toral, Mikolaj Trzaska, Per Ake Holmlander, Darren Johnston, Havard Wiik, Jason Stein and Michael Zerang.
In 2011 he received the New Music America Composers Assistance Award and in 2011, 2012 and 2017 the ASCAP Plus Award from the American Society of Composers, Authors and Publishers . He has recorded over one hundred and thirty albums as a sideman or leader for labels including Relay, (which he owns and operates), Not Two, Clean Feed, Astral Spirits, Aerophonic, Audiographic, Sonorus, Trost, Utech, New World, and Okka Disk.