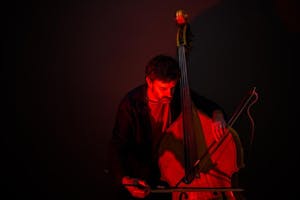 Nat Baldwin, Skeletons, Excepter
Nat Baldwin // Skeletons // Excepter
Nat Baldwin is a musician and writer living in Portland, Maine. He began playing double bass in high school and studied jazz performance at the Hartt School of Music before dropping out to pursue his own musical interests outside the confines of academia. In 2001, he moved to Middletown, CT to immerse himself in the Wesleyan experimental music community, studying with Anthony Braxton and performing with such artists as Mary Halvorson, Charlie Looker, Nate Wooley, Tatsuya Nakatani, Daniel Carter, Jack Wright, and Jessica Pavone. His first solo album, Solo Contrabass, appeared in 2003 on Peacock Recordings, featuring studies in extended bowing techniques ranging from aggressive noise to lowercase minimalism. In 2005, Baldwin's solo music took a turn toward linear melody and form, shaping a unique voice in the singer-songwriter tradition and releasing several critically acclaimed albums while touring extensively.
In addition to his solo work, Baldwin has been a core member of Dirty Projectors ('05-'06, '09-'19), while also contributing to albums by Grizzly Bear, Department of Eagles, and others. His first book, The Red Barn, a collection of experimental short fiction, was released in 2017 on Calamari Archive, Inc, while concurrently finishing a BA in English at the University of Southern Maine. In 2019, Baldwin's interest in non-linear musical forms and textural abstractions returned to the forefront of his creative output. AUTONOMIA I: Body Without Organs will be released on Shinkoyo in February 2020, marks the beginning of a series of new solo work.
https://natbaldwin.bandcamp.com
Skeletons (also known as Skeletons and the Girl-Faced Boys, Skeletons and the Kings of All Cities, Skeletons Big Band, and Skeleton$) is an American entertainment unit, formed in 2002, in Oberlin, OH. Assembled around the solo work of producer and songwriter Matt Mehlan, the project embodies an expressed ethos of collaboration and unpredictability, taking song-form, personnel, instrumentation, performance, recordings - and even b(r)and name - as opportunities for experimentation. In its various forms, the band has toured around the world, and recorded for Ghostly International, Tomlab, Crammed Discs, Altin Village and Mine, and Shinkoyo - the imprint they co-founded.
A mainstay in the underground and DIY music cultures of New York in the late 2000s, a core quartet of Mehlan, the guitarists Jason McMahon and Tony Lowe, and drummer Jon Leland reveled in their own feral shapeshifting, collaborating with an extended list of New York's underground virtuosos, and lending their individual talents to projects like Janka Nabay's Bubu Gang, Zs, Sun Araw, Chairlift, and Congotronics Vs Rockers (w/ Deerhoof, Konono No 1, etc), among others. Regulars at the vital alternative and artist-run spaces of their time - like the original Silent Barn, where they first lived together, rehearsed, and recorded - they found support for their expanding explorations, at times with ensembles with up to 20 musicians, at experimental bastions like Roulette and Zebulon. After a scattering across the country - Mehlan to Chicago, Leland to Los Angeles - the quartet dissolved, resulting in an LP with an expanded ensemble (2016's Am I Home), two solo albums from Mehlan (Flippin' Out - as Uumans in 2015, The Mehlans in 2017) and the solo debut from McMahon (Odd West - releasing January 31, 2020 on Shinkoyo).
Returning to the Skeletons b(r)and in 2020 for a new suite of songs, written in a microtonal tuning (17-tone equal temperament) on the instruments of Shinkoyo affiliate and Synthmall proprietor Peter Blasser, Mehlan summons the spirit - and core trio w/ McMahon & Leland - with a new LP: If the Cat Come Back - a ghost narrative, picking up the aesthetic threads of Skeletons LPs like Lucas and The Bus - recorded by Mehlan and mixed by Mehlan and Shahzad Ismaily (Marc Ribot, Secret Chiefs 3, Collin Stetson, Sam Amidon), to be released later this year.
http://skeletonstv.bandcamp.com
Legendary veterans of the NYC underground, Excepter channel Cosmic American Music through improvisatory meditations on electronic blues and synth folk. With a slowly shifting line-up, and a dense discography, Excepter are currently operating as a duo out of Chicago IL.