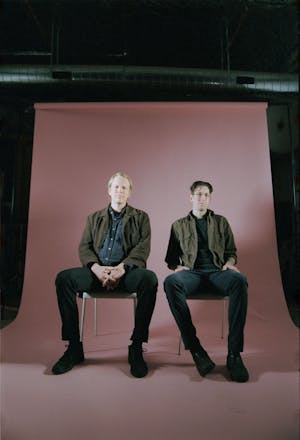 Mute Duo // Akosuen (Double Release Show)
8:30pm // $12 ADV / $15 DOS // 18+
Mute Duo
Chicago's Mute Duo is Skyler Rowe (drums/percussion) and Sam Wagster (pedal steel). Building on simple, composed melodies, Mute Duo explores an ambient atmosphere ranging from sparse chimes to pummeling drone with a free, rhythmic fluidity. In 2017, they released their debut album featuring artwork by local artist/writer Dmitry Samarov, and in 2018, they released the "Axially Grasp EP" on Lurkerbias. Mute Duo also frequently plays improvisational shows with friends/guests, and have played with Ryley Walker,Bill MacKay, Ben Lamar Gay, Matthew Lux, Brian Case, Tim Kinsella, Bruce Lamont and others. Last winter, they opened for Ryley Walker on a three week tour that took them to Canada, down the east coast and through the southeast. Their second LP, "Lapse in Passage," will be released by American Dreams Records on March 20th, 2020.
Akosuen
Akosuen (/aa-KŌZ-eh-win/) is a project by multi-intstrumentalist Billie Howard, focusing on breathing cycles, chronic pain, and mediation on both quiet and extremely loud sounds. The Akosuen ensemble has appeared as solo synth and voice, violin choir, a trio playing prepared piano and percussion, a six-piece doom band, and an eight-member female chorus. Tonight's performance celebrates the release of Akosuen's latest EP of music written for piano.The piano EP is the second in a trilogy of recordings and follows "At Sea: Five Movements for Violin." Billie will be joined by Rebecca Himelstein and Nate Kappes (Bruges).
Billie Howard is a Montana-born, Chicago-based pianist, violinist, violist, and educator. As a performer, she is inspired by contemporary and experimental music on the farthest ends of the volume spectrum, ranging from the quietest sounds to fully-amplified extremes. She was the founding violinist of a.pe.ri.od.ic, The Paver, and NbN Trio. She holds a M.Mus. in piano performance and pedagogy from Northwestern University and B.A. in piano and violin performance from Montana State University.