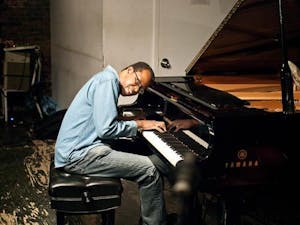 Matthew Shipp with Jason Roebke and Mike Reed
Matthew Shipp performs a solo piano set and in a trio set with Jason Roebke and Mike Reed.
Matthew Shipp - piano
Jason Roebke - bass
Mike Reed - drums
With his unique and recognizable style, pianist Matthew Shipp worked and recorded vigorously from the late '80s onward, creating music in which free jazz and modern classical intertwined. He first became well known in the early '90s as the pianist in the David S. Ware Quartet, and soon began leading his own dates -- most often including Ware bandmate and leading bassist William Parker -- and recording a number of duets with a variety of musicians, from the legendary Roscoe Mitchell to violinist Mat Maneri, the latter another musician who began making a name for himself in the '90s. Through his range of live and recorded performances and unswerving individual development, Shipp has come to be regarded as a prolific and respected voice in creative music into the new millennium.