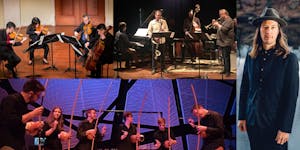 Matt Ulery
Matt Ulery's Loom, Greg Beyer, The Avalon String Quartet, Avalon String Quartet
A night of Chicago new music
Chicago's new music scene is more robust than it has ever been and tonight's double header is proof positive. The particularly fertile soil of this scene is offering individual artists and ensembles with distinct voices a myriad ways to build bridges to create exciting and fresh musical experiences.
In tonight's first set, percussionist Gregory Beyer will offer three premieres as soloist and in consort with the Avalon String Quartet, Projeto Arcomusical, and Matt Ulery. Fulbright Scholar, composer, educator, and "prodigiously talented percussionist" (Chicago Classical Review), Gregory Beyer is a contemporary music specialist who blends the disciplines of orchestral, jazz, and world music into a singular artistic voice. A member of the Grossman Ensemble and Ensemble Dal Niente, Director of Percussion Studies at Northern Illinois University, Beyer is also Artistic Director of Arcomusical, an organization dedicated to the Afro-Brazilian berimbau.
Gregory Beyer, marimba:
Four Elements (2019)
Chinary Ung (b. 1942)
World Premiere
Gregory Beyer, percussion, and the Avalon String Quartet:
In Transit (2014)
Joey Roukens (b. 1982)
Projeto Arcomusical:
Emigre and Exile (2019)
Matt Ulery (b. 1981)
World Premiere
- - - - - - - - - - - -
On the second half of the evening, bassist/composer Matt Ulery performs a set of some of his jazz chamber music for quintet and dectet with frequent collaborators, Paul Bedal - piano, Jon Deitemyer - drums, Russ Johnson - trumpet, Geof Bradfield - clarinets, and including Greg Beyer - percussion, and the Avalon String Quartet.
Chicago based bassist/composer and bandleader, Matt Ulery, has developed an instantly recognizable sound. Known for his sweeping lyricism, unconventional phrase structures, expressionistic emotionalism, Ulery's music, from small, diverse chamber ensembles to full orchestras, is informed by the entire spectrum of jazz, classical, rock, pop, and folk– specifically American, South American, Balkan, and other European folk styles. He has been performing for 23 years on upright, electric, and brass basses.
For over two decades, Ulery has been the leader of his own groups and frequent collaborator. Ulery has produced and released 9 albums of all original music under his name including three recent releases of critical acclaim, "By a Little Light," "Wake an Echo," and "In the Ivory," on Dave Douglas's Greenleaf Music record label in 2012-2014 and his most latests, "Festival" (2016), "Sifting Stars" (2018), and "Delicate Charms" (forthcoming in October 2019), on his own label, Woolgathering Records.