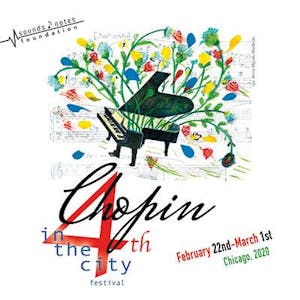 the 4th Annual Chopin In The City Festival
Loose Assembly, Peter Cheslie Chopin piano-less, visuals by Lauren Deutsch
$15.00 - $20.00
Sales Ended
Examining the influence on jazz by the Polish composer and virtuoso pianist Frédéric Chopin.
Mike Reed "Loose Assembly Trio"
Mike Reed – drums
Greg Ward – alto saxophone
Jason Adasiewicz – vibraphone
Peter Cheslie "Chopin piano-less"
Peter Cheslie – saxophone
Jon Deitemyer – drums
James Davis – trumpet
Clark Sommers – bass
"Tribute to Tenor Classics is a project, devoted to the music of legendary tenor saxophonists, representing different periods in the history of jazz". Internationally renowned jazz artist and composer, Peter Cheslie (orig.Piotr Cieslikowski) is one of Poland's leading tenor and soprano jazz saxophonists, who recorded 13 albums, toured with such jazz greats as saxophonist Scott Hamilton, Ronnie Cuber, hammondist Doctor Lonnie Smith, guitarist Mark Whitfield, and who was a featured soloist of a Big Band led by legendary drummer – star of Count Basie's Big Band – Duffy Jackson. As of 2013 Peter has settled with his wife – vocalist Eva Green - in Toronto ON and became a permanent resident in Canada. He is active on the Toronto jazz scene, performing and recording with top Canadian jazz musicians, such as Jan Jarczyk, Robi Botos, Joe Bowden, Kingsley Etienne, Jake Wilkinson, Morgan Childs, and many others. His Canadian album debut has just been recorded with Toronto drummer - Joe Bowden, as well as Robi Botos on piano, and Louis Botos Jr. on bass, Pat LaBarbera on tenor sax as a special guest. Released in January 2015. In December of 2008, Peter was awarded by the Ministry of Culture in Poland, with an Honorary Order for Meritorious Service for the Polish Culture.
Lauren Deutch - exhibition and visuals:
Born in 1956 and raised on Chicago's south side, I attended Columbia College in the mid 70s, got involved in the women's, anti-war and social justice movements of that era and served as Artistic Director of Photography for the City's Artist in Residence program later that decade. Throughout the 1980s I worked as a photographer and graphic designer. I began my tenure as Executive Director of the Jazz Institute of Chicago in 1996. My background in community organizing and the arts provided the impetus to develop programs in collaboration with a variety of institutions, including the JazzCity free concert series, a collaboration with the Chicago Park District which provides jazz performances to communities across Chicago, the Jazz Links education programs that provide opportunities for students to perform with and learn from jazz veterans, and co-curating the Chicago Jazz Festival and Millennium Park's Made in Chicago: World Class Jazz series. In 2006 I began a 12-year partnership with a cultural arts organization in Poznan, Poland to curate and present a Made in Chicago Festival and to exhibit my music-inspired artwork. I photographed the programs I developed, providing the chance to illustrate the story of the Jazz Institute and its community. While the majority of this period was spent growing this small not for profit arts organization, it also provided opportunities for me to continue to develop my art. I stepped down from my role as executive director on March 1, 2018 to focus more deeply on my own artistic endeavors.