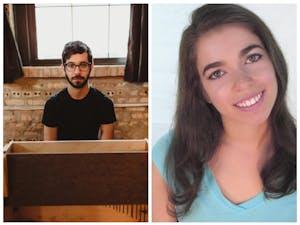 Frequency Series Presents
Jonathan Hannau & Liza Sobel // Deaf Rabbit
A double bill of two Chicago duos
Jonathan Hannau and Liza Sobel: An Apparition
Charles Ives: Selected Songs
Jonathan Hannau: "Silhouettes"
Liza Sobel: "Skin"
George Crumb: "Apparition"
Joining forces for the first time in concert, Liza Sobel and Jonathan Hannau have curated a lovely program of music focused around the haunting song cycle Apparition by George Crumb in celebration of his 90th birthday. Starting the program they will perform selections from the original American experimental composer, Charles Ives. Short and dissonant, these songs explore a vibrant harmonic language. Both Jonathan and Liza will also be including some of their own original songs on the program starting with the premiere of a new arrangement of Jonathan's "Silhouettes" based on early poems by William Carlos Williams and then Liza's "Skin" which works with text by Richard Scott that explores the reek myth of Echo and Narcissus. Ending the program is the sprawling work of "Apparition." A beautiful and surreal exploration of Walt Whitman's When Lilacs Last in the Dooryard Bloom'd.
"Jonathan is a distinctly modern presence in the Chicago (and international) music scene." Tamas Vilaghy, Cacophony Magazine
deaf rabbit - Rachel Peters, violin and Autumn Selover, harp
"Glass Shards" - Oswald Huynh
"Drones & Violin "- Nico Muhly
"Freya's Tears" - Robert Paterson
Representing the eclectic programming of this genre-hopping duo, deaf rabbit will be showcasing new works for violin and harp by American composers. Opening the program is the premiere of "Glass Shards," written for deaf rabbit by Vietnamese-American composer Oswald Huynh. Journeying into the memory of a melancholy lullaby, "Glass Shards" recalls and shatters the melody of a traditional Southern Vietnamese song. Exploring the space occupied by both sound and music, is Nico Muhly's "Drones & Violin." An attempt at "stylized noise". Drones & Violin invites the listener to playfully and thoughtfully process the constant noise with which we surround ourselves, an act not unlike "singing along with one's vacuum cleaner." Rounding out the program is "Freya's Tears, a companion of Robert Paterson's larger work, "The Book of Goddesses." A triptych embodying the female deities of Iris, Freya, and Sekhmet, and celebrating global influences inspired by the respective Greece, Norse, and Egyptian mythologies.
"delightful, refreshing, and intelligent" - Bill Neil, Symphony Sunday WDRT, Aug 25 2020