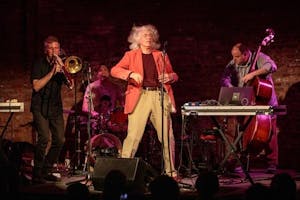 JeJaWeDa: Blonk/Bishop/Walter/Smith Quartet
$15.00 - $17.00
Sales Ended
8:30pm // $15 ADV / $17 DOS // 18+
JeJaWeDa: Blonk/Bishop/Walter/Smith Quartet
Jeb Bishop, trombone/electronics
Jaap Blonk, voice/electronics
Weasel Walter, drums etc.
Damon Smith, bass
"This new quartet, JaJeWeDa, debuted in the spring of 2019 with a series of concerts in the Northeast. The band features the great Dutch sound poet and improvisor Jaap Blonk, trombone virtuoso Jeb Bishop, and the versatile and powerful "rhythm section" of Damon Smith and Weasel Walter. Jaap Blonk is unique for his powerful stage presence and playful freedom in improvisation, combined with a keen grasp of structure. The frenetically prolific bandleader/composer/multiinstrumentalist Weasel Walter summons myriad timbres from a (mostly) conventional drum kit, while also bringing a strong performative element to the proceedings. Jeb Bishop is an extraordinary improviser, composer, and simply one of the finest living trombonists, and has been a major voice in improvised music for more than 20 years. Tireless organizer and Balance Point Acoustics label head Damon Smith expands both the sound world of the double bass and the roles it can play in an ensemble. What happens or doesn't with this quartet is anyone's guess. The performances so far have run a gamut from delicate chamber textures to all-out electronic meltdowns."
"The quartet's current tour is in celebration of the release of live recordings on CD and cassette on the Balance Point Acoustics label. The recordings -- Live at Pioneer Works vol. 1 and vol. 2 -- will be available at the show, ahead of their official release date."