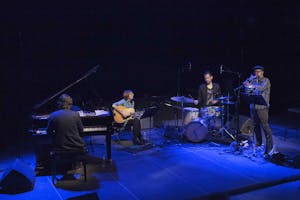 Illegal Crowns (Delbecq/Ho Bynum/Halvorson/Fujiwara)
Illegal Crowns is a collective ensemble of international contemporary music collaborators, who released "The No-Nosed Puppet" in 2019.
ILLEGAL CROWNS : US/ CANADIAN TOUR JUNE 2020
Taylor Ho Bynum (cornet)
Benoît Delbecq (piano)
Tomas Fujiwara (drums)
Mary Halvorson (guitar)
Illegal Crowns is a collective quartet that brings together the NYC/New Haven-based trio of guitarist Mary Halvorson, drummer Tomas Fujiwara, and cornetist Taylor Ho Bynum with the French pianist Benoît Delbecq. All four artists are critically recognized as leading figures in contemporary music, and have created multiple original compositions written specifically for this group. The band has recorded two albums (the self-titled debut album released in 2016, and "The No-Nosed Puppet" released in 2019, both on the RogueArt label), has toured through Europe with performances in France, the UK, Italy, and Austria, and made their Canadian debut this summer.
Illegal Crowns is a rare entity - a truly equal-member collective ensemble of international collaborators. While representing four diverse compositional voices and four virtuoso instrumentalists, Illegal Crowns clearly demonstrates a "group" sound. The band has received extremely favorable attention in Europe, with critical acclaim for their debut album (chosen by two different writers as "album of the year" in France's Jazz Magazine) and performances at major festivals like Vicenza (Italy), Wels (Austria), and Jazzdor/ Strasbourg (France), as well as Canadian performances at the Ottawa and Vancouver international jazz festivals. However, this upcoming tour will be the first time the band has had the opportunity to perform in the US.
This tour is made possible with the support of FACE (French American Cultural Exchange), and Jazz Road, a national initiative of South Arts, which is funded by the Doris Duke Charitable Foundation with additional support from The Andrew W. Mellon Foundation.
Photo Credit to Nicolas Dorbon.