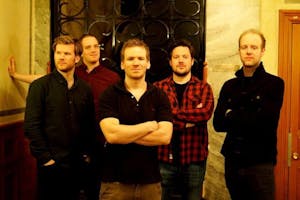 Friends & Neighbors with special guests Josh Berman and Nick Mazzerlla
$12.00 - $15.00
Sales Ended
A rare Chicago performance from this all-star group of Scandanavian improvisers.
Thomas Johansson – trumpet
André Roligheten – tenor saxophone/clarinets
Oscar Grönberg - piano
Jon Rune Strøm – double bass
Tollef Østvang – drums
Friends & Neighbors represents a new generation of bands from the Norwegian jazz-scene. The music can be described as energetic and melodic free jazz inspired by musicians like Ornette Coleman, Archie Shepp, Pharoah Sanders and John Carter.
The quintets members can also be heard in bands like Team Hegdal, Paal Nilssen-Love Large Unit, Frode Gjerstad trio, Cortex and All Included.