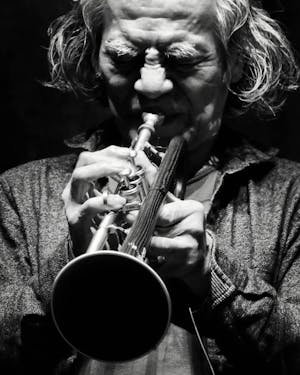 Fred Anderson Quartet Vol. I Archival Recording CD Release
Night 2 of the evening Solstice concerts
Kondo/Aoki/Drake/Zerang
Toshinori Kondo - trumpet/electronics
Tatsu Aoki - contrabass
Hamid Drake - drums/percussion
Michael Zerang - drums/percussion
Toshinori Kondo
Toshinori Kondo is a Japanese electric trumpeter who is highly acclaimed not only in Japan but also in Europe and the United States and in Africa. Kondo's early musical influences were largely straight-ahead jazz, especially hard bop. Indeed, the name of his college band, the Funky Beaters, fairly reeks of hard bop attitude, especially if one subscribes to the theory that the nickname "bop" came from the sound of a policeman's nightstick giving a suspect a beating. Such was the atmosphere during this artist's college days, when an enormous upheaval took place in the society, fueled on by the radicalism of the '60s. His first love in jazz was Charlie Parker, but unlike many trumpet players, he did not choose one road or the other between the two brass stylists closely associated with him: Dizzy Gillespie and Miles Davis. Both trumpeters became almost equally grounding influences in his playing, which has always combined the dazzling, sometimes outrageous virtuosity of Gillespie with just about every aspect of Davis' career one can think of, from the buzzy nestling of his Harmon mute to the entire electric music direction. The free jazz of Ornette Coleman was the next major influence, but within the spirit of this music, he developed his own frame of reference which was more strongly influenced by his upbringing and religious studies than any particular musical influences. His father had been a shipbuilder, and this man's combination of bouts of hard work and total relaxation became something of a philosophical view. "Is great: doing nothing" and "Best part: no meaning" were typical summations of the Kondo world view during an era when his mastery of English was still rudimentary.
He played with both British guitarist Derek Bailey and soprano saxophonist Steve Lacy prior to his New York sojourn, and continued straddling the fence between conventional jazz collaborations and the outer fringes of free playing through his varied New York relationships. Another pre-American collaboration was with the free jazz drummer Milford Graves, recorded during a tour of Japan in which Graves collaborated with locals. The aforementioned return to Japan and great economic success eventually led to a decision to relocate to Amsterdam, where his profile became every bit as low as the Tokyo persona had been extravagantly widespread. Only a handful of Dutch musicians know how to contact him when he is in Holland, and he has made absolutely no effort to become involved in that country's heavily competitive jazz scene; and he is certainly the first immigrant to Holland about which that could be said.
Tatsu Aoki
Tatsu Aoki is a leading advocate for the Asian American community as well as a filmmaker, educator, and a prolific composer and performer of traditional and experimental music forms. He was born in Tokyo in 1957 to Toyoakimoto, an artisan family proficient in Okiya, the tradition of working as booking and training agents for geisha in downtown Tokyo. Starting at the age of four, Aoki was part of his family performance crew and received the essence of traditional Tokyo geisha cultural training and studies, which combines history with creativity. In the late 1960s, during Tokyo's economic and social decline, many traditional family businesses were forced to close; and with his grandmother's passing, he shifted his training to American pop and experimental music. By the early 1970s, Aoki was active in Tokyo's underground arts movement as a member of Gintenkai, an experimental ensemble that combined traditional music and new Western forms. In the same period, he started his work in small-gauge and experimental films, influenced by his biological father, who was a movie producer at Shintoho Studio.
In 1977, Aoki left Tokyo to study experimental filmmaking at the School of the Art Institute of Chicago, where he is now an adjunct Professor in the Film, Video and New Media Department teaching film production and art history. He has produced more than thirty experimental films and is one of the most in-demand performers of bass, shamisen, and taiko, contributing more than one hundred recording projects and touring internationally during the last 35 years. He was also a visiting professor at Northwestern University teaching courses in Asian American Arts Practices and Identity for the Asian American Studies Department. Aoki is Founder and Artistic Director of Chicago Asian American Jazz Festival, which observes its twenty-fourth year in 2019. Named President of San Francisco–based Asian Improv Records (AIR) in 1999, he has managed or produced more than fifty AIR albums, notably the Max Roach and Jon Jang collaboration The Beijing Trio, and several projects in the hip-hop and Asian Pacific American arts arenas, from film screenings to concert series. It is important to note that all of his projects fuse some aspect of the traditional legacy with contemporary applications, whether it be electronics, progressive jazz, neo classical Japanese dance, shadow puppets, or experimental film.
Aoki was named one of 2001's "Chicagoans of the year" by Chicago Tribune for his music for his cross-cultural music and is most noted for being the long-standing bassist for Chicago's late great legend Fred Anderson, generating eight albums with the saxophonist. Aoki has performed with other masters as well, recording unique works with musicians such as Roscoe Mitchell, Don Moye, pipa virtuoso Wu Man, George Freeman, and Von Freeman. Aoki's suite ROOTED: Origins of Now, a four-movement suite for big band, premiered in 2001 at Ping Tom Memorial Park, and was performed at the Chicago Jazz Festival and at MCA Stage as part of Chicago Asian American Jazz Festival. Additional notable releases include Basser Live (1999) and Basser Live II (2005), recorded live at MCA Stage; The MIYUMI Project (2000), Symphony of Two Cities (2002), and Posture of Reality with Wu Man (2003). The Asian American Institute awarded Aoki the Milestone Award in 2007 for his contribution to Chicago-area arts. In 2010, he received the Japan America Society of Chicago's Cultural Achievement Award as well as the 3Arts Artist Award. He received the "Living in our Culture" award by the Japanese American Service Committee in 2014 and the Jazz Heroes' Award by the National Jazz Journalist Association in 2015. In 2016, his Miyumi Project ensemble was the official musical presenter for the groundbreaking, and unveiling of Yoko Ono's "SKYLANDING" installation in Chicago's own Jackson Park; this resulted in the group recording the "SKYLANDING" album produced by Yoko Ono. Last year (2017), the group contributed their unique vibe to the soundtrack of the film documentary addressing the Japanese American Incarceration, "And Then They Came for Us", and released the corresponding album: "And then They Came for Us - Un-American"; the film has since then received the 2018 Silver Gavel Award for Documentaries by the American Bar Association. Additional accolades include Aoki's own film "LIGHT", which he directed and received the award for Best Experimental Film in the 2017 Canada International Film Festival.
He was selected by the Asian American Advisory Council of Illinois in 2017 and received the Community Service Award from the Illinois Secretary of State, Jesse White; he also received the prestigious Commendation for the Promotion of Japanese Culture from the Foreign Ministry in Japan, which is given to individuals with outstanding achievements in international fields and acknowledges the recipient's contributions to the promotion of friendship between Japan and other countries. In May of 2018 Aoki was honored as the first recipient of the "George Award", for his years of support, recording, and performance with renowned American Jazz and soul guitarist George Freeman.
Recently, in addition to directing and composing in two film projects, Aoki has been touring as part of Nicole Mitchell's Black Earth Ensemble, performing on a world tour for her "Mandorla Awakening II" project; he was also awarded the 2019 Community Service award from the Asian American Coalition of Chicago for his continued leadership and contribution to the community.
Hamid Drake
This brilliant, sensitive, endlessly rhythmic,intelligent, spiritual, and powerful drummer /percussionist from Chicago was born in 1955 in Monroe, Louisiana, and his family moved to Evanston, Illinois when he was a child, just as an older musician from Monroe named Fred Anderson also moved to Evanston with his own family and started out playing with local rock and R&B bands, which eventually brought him to the great Fred Anderson's attention, with whom he has worked intesively from 1974 to 2010 when Fred left us..including Anderson's 1979 The Missing Link. Through workshops Fred Anderson was giving, young Hamid first got to know Douglas Ewart,George Lewis, and other members of Chicago's Association for the Advancement of Creative Musicians (AACM). Another of the most significant percussion influences, Ed Blackwell dates from this period. Hamid's flowing rhythmic expressions and interest in the roots of the music drew other like~minded musicians together into a performance and educational collective named the Mandingo Griot Society, which combined traditional African music and narrative with distinctly American influences appearing on the group's first album, and has played reggae. Don Cherry, who Drake first met in 1978, was another continuing collaborator, he worked extensively with him from 1978 until Cherry's death in 1995. After meeting Don Cherry, Hamid Drake and fellow percussionist Adam Rudolph travelled with Don to Europe, where they spent much time exploring the interior landscape of percussion, while working nonstop to share deeply in Mr. Cherry's grasp of music's spiritually infinite transformational possibilities. Hamid Drake studied drums extensively, including eastern and Caribbean styles, he also frequently plays without sticks, using his hands to develop subtly commanding undertones. His tabla playing is also notable for his subtlety and flair. Drake's questing nature and his interest in Caribbean percussion led to a deep involvement with reggae. Now touring and recording all over the world, and in constant demand everywhere, Hamid Drake has played and / or recorded with Fred Anderson, Peter Brötzmann, Don Cherry, Marilyn Crispell, Pierre Dorge, Johnny Dyani, Hassan Hakmoun, Herbie Hancock, Joseph Jarman, George Lewis, bassist William Parker (in a large number of lineups), and has performed a solstice celebration with fellow Chicago percussionist Michael Zerang annually since 1991, ARchie Shepp, David Murray, Sabir Mateen, Joe McPhee, Jim Pepper, Dewey Redman, Adam Rudolph, Pharoah Sanders, Foday Musa Suso, John Tchicai, and almost all the members of the AACM. He has also maintained his ties to world music through work with Foday Musa Suso and many others. With these diverse artists, playing in a broad range of musical settings, Drake comfortably adapts to north and west African and Indian impulses as well as reggae and Latin. More and more, though he's engaded as sideman, he's devoting his energies and creatiivity as band leader and co-leader focusing on his own groups and projects such as Bindu and the Indigo Trio (with Nicole Mitchell and Harrison Bankhead), the duet with the italian vibraphone player Pasquale Mirra, as duet also with Iva Bittova, Paolo Angeli, Michel Portal.
Michael Zerang
Michael Zerang was born in Chicago, Illinois and is a first generation American of Assyrian decent. He has been an active musician, composer, and producer since 1976, focusing extensively on improvised music, free jazz, contemporary composition, puppet theater, experimental theater, and international musical forms. He has been a long-standing member of The Peter Brötzmann Chicago Tentet, Friction Brothers, Brötzmann/ McPhee/ Kessler/ Zerang Quartet, and Survival Unit III with Joe McPhee and Fred Lonberg-Holm. He has collaborated extensively with contemporary theater, dance, and other multidisciplinary forms and has received three Joseph Jefferson Awards for Original Music Composition in Theater, in 1996, 1998, and 2000. He has over one-hundred titles in his discography and has toured nationally and internationally to 34 countries since 1981 with and ever-widening pool of collaborators. He was the artistic director of the Link's Hall Performance Series from 1985-1989 where he produced over 300 concerts of jazz, traditional ethnic folk music, electronic music, and other forms of forward thinking music. He continued to produce concerts at Cafe Urbus Orbis from 1994-1996, and at his own space, The Candlestick Maker in Chicago's Albany Park neighborhood, from 2001 - 2005.