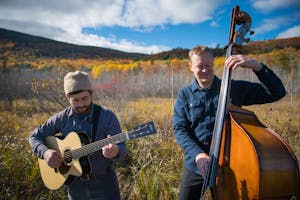 Endless Field
sun speak
Double bill with New York- based Endless Field and Chicago-based Sun Speak.
Endless Field (Biophilia Records Artists) is a collaborative instrumental guitar and bass duo featuring guitarist Jesse Lewis and bassist Ike Sturm. They play original songs filled with intricate finger-style lines, improvisation and ambient textures. Drawing on inspiration from nature, the duo seeks to bring music to outdoor spaces, encouraging audiences to explore their own frontiers.
Endless Field has toured internationally in Italy, Norway and across the U.S., performing at Lincoln Center, the U.N., SubCulture and live on NPR's Echoes Radio. Volunteer activities have involved Riverkeeper sweeps, Habitat for Humanity, university residencies and river cleanup projects. They have collaborated with jazz luminaries such as Theo Bleckmann, Ingrid Jensen and Donny McCaslin. In 2018 and 2019, Endless Field produced a benefit concert in New York City for the Natural Resources Defense Council (NRDC), featuring world-class ensembles led by Catherine Russell, Dave Douglas, Camila Meza and Fabian Almazan.
Endless Field is releasing their new album, Alive in the Wilderness, in the summer of 2020 on Biophilia Records. Using a solar battery-powered mobile recording studio and National Geographic photographers and videographers, they documented their epic adventure and will be donating all album proceeds to the Natural Resources Defense Council.
https://www.endlessfieldband.com/
SUN SPEAK is the Chicago-based instrumental duo of Matt Gold (guitars) and Nate Friedman (drums). On the heels of a 2018 collaboration with New York vocalist Sara Serpa, 2019 saw the release of their fourth album Moon Preach (Flood Music); the record further explores the duo's earthy melodicism, loping grooves, and finely-tuned textures.
Recorded in a one-room house in rural New Hampshire, Moon Preach evokes both the quiet calm and dream-like chaos of this off-the-grid setting. The opening track "Alaska" reimagines an older piece, "Unalaska" (from 2014's Sacred Rubble) and casts it anew in a static swirl; "Quilt" and "Off Hue" explore the more surreal elements of rhythm and texture, building into turbulent abstractions. Elsewhere, tracks like "Davlin" and "Jagged Midnight" explore something closer to an introspective Americana. This duality has become a trademark of Sun Speak's recordings, finding a center between stripped-down structures and more aggressive textural explorations — Moon Preach is their strongest attempt at this balance yet.