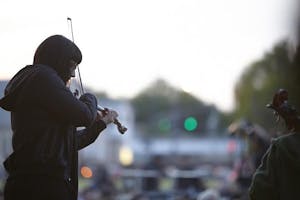 Frequency Series Presents
Billie Howard
A night of contemporary experimental music for violin
Multi-instrumentalist Billie Howard presents a recital that focuses on contemporary experimental music for violin. The recital will include works by Markus Trunk, Amber Priestley, Grażyna Bacewicz, and more. A celebration of Howard's latest EP "At Sea", Billie will be joined by violinists Katie Klocke, Tricia Park, Kathryn Satoh, and Becca Wilcox for an ensemble performance of her work "At Sea: Five Movements for Violin."
Billie Howard is a Montana-born, Chicago-based pianist, violinist, violist, and educator. As a performer, she is inspired by contemporary and experimental music on the farthest ends of the volume spectrum, ranging from the quietest sounds to fully-amplified extremes. She often works in collaboration with one of her groups: a.pe.ri.od.ic, The Paver, and NbN Trio. She also composes under the moniker Akosuen, which ranges from a solo endeavor to a 6-piece band with chorus. Billie has exhibited sound installations at fine art galleries Goldfinch, Silent Funny, and GAG in Chicago.
She holds a M.Mus. in piano performance and pedagogy from Northwestern University and B.A. in piano and violin performance from Montana State University.