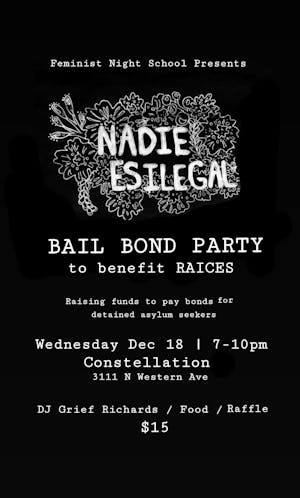 Bail Bond Party to Benefit RAICES
7pm // $15 ADV & $15 Cash Only at the Door  //  18+
Join Feminist Night School (FNS) and friends to raise funds to pay bonds for detained immigrants & asylum seekers. We'll have food, a raffle, and a dance party with DJ Grief spinning vintage vinyl that's funky, freaky and fun!
Today, more than ever, we need to stand up for what's right. We need a just and humane immigration system that treats asylum-seekers and detained immigrants with dignity and respect. RAICES is shining a light on injustices happening in our own country and providing support to immigrant families through legal and social services. Paying bond is one of the best ways to support detained asylum seekers as it allows families to be reunited and folks to be released while they await their asylum and immigration court hearings.
Interested in supporting the bond fund, but can't attend the event? We've got you covered.
You can either make a donation to our online and share with your networks: https://give.classy.org/feminist-night-school-bond
OR
Purchase a t-shirt or tote bag in support of the bond fundraiser. A portion of the proceeds from each t-shirt or tote sale will benefit the fundraiser. Purchase an item today and you can have it delivered to your home or pick it up at our event. Wear it in solidarity!
https://barrel-maker-printing.printavo.com/merch/raices-store/
Thanks to our friends at Barrel Maker Printing for supporting RAICES and this benefit.