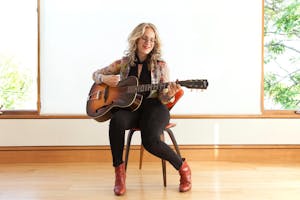 Amalea Tshilds Album Release // Tim Kaiser
8:30pm // $15 // 18+
Amalea Tshilds
Amalea Tshilds, a songwriter and singer from Chicago, will release her second full length record on February 21 at Constellation. She is a founding member of the alt-country group Girls of the Golden West and has also released a solo record, Painted Tiles, with an all star cast of collaborating Chicago musicians. In her latest record, Love on the Ground, her unique voice and dreamlike orchestrations explore complex roots in folk and choir. Accompanied by her core personnel Joseph Adamik, Elise Bergman, Gillian Lisee, and Sam Wagster, Love on the Ground presents nine mystical love songs for impossible times. Recorded by Dorian Gehring and with guest appearances from Marydee Reynolds, Holly Stevens, Caroline Campbell, Ben Clarke, Jim Becker and Doug McCombs.
Tim Kaiser
Tim Kaiser's still figuring it out, but this time he's got help from his friends.
A veteran of the Columbia, MO -> Chicago shambhala (he's performed with Miami Dragons, Golden Birthday, and Axis: Sova), Tim played his debut solo show at the Hideout in January 2019. Armed with a borrowed acoustic guitar and his living room lamp, he sang songs that were sweet, sad and a little sardonic.
For this follow-up performance he's assembling a shit-hot band of dear friends and local lights to bring his songs to jumping, chooglin', honky-tonkin' life:
Josh Johannpeter (Mahjonng, Bobby Conn)
Dan Browning (CAVE)
Jeremy Freeze (Jerusalem and the Starbaskets)
Jeanine O'Toole (the 1900s, Bare Mutants)