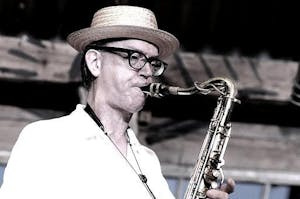 Ab Baars
Ab Baars
Ab Baars plays tenor saxophone, clarinet and shakuhachi with a completely idiosyncratic style.
A true original, Ab's music focuses on the extremes of sound and form in a manner that is both startling yet somehow inherently logical. Ab has been performing solo throughout his career and has become a master of the medium. The vulnerability that makes solo performance so difficult for many musicians is exactly the element that allows Ab's peculiar sense of drama to come to the fore. His playing has always been fearless, be it with the legendary ICP Orchestra, of which he has been a member since the 1980s, with his numerous long standing projects including the Ab Baars Trio or Duo Baars – Henneman, or frequent collaborations with Dutch rock band The Ex. However, his ability to plunge into the void of silence is particularly striking and, as abstract as it gets, one always feels he is comfortably balanced on the tightrope even if we can't see it or tell where it's heading.
Ab Baars is well known internationally as a truly unique musician. In the Netherlands, his status is unquestionable, having received the biggest honor a Dutch musician can be awarded, the Boy Edgar Prize in 1989. By now his reputation abroad is also beyond argument. Baars is a frequent placer in Downbeat Magazine critics polls for the saxophone and clarinet categories. Ab Baars has collaborated with musicians including Steve Lacy, Ken Vandermark, John Carter, Paal Nilssen-Love, Roswell Rudd and many more.
Ab Baars clarinet/tenorsax/shakuhachi
Molly Jones flute/tenorsax
Ken Vandermark clarinet/tenorsax
Josh Berman cornet
Katinka Kleijn cello
Katie Ernst bass
Kent Kessler bass
Mabel Kwan piano