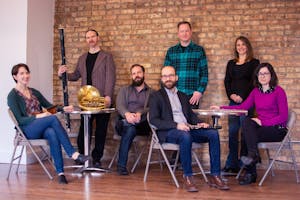 Frequency Series Presents
a•pe•ri•od•ic (42): Album Release Show
$10.00 - $15.00
Sales Ended
With works by Michael Pisaro, Billie Howard, Kenn Kumpf, and Nomi Epstein
Now in our 10th season, join a•pe•ri•od•ic for a concert celebrating the release of our second album with all works written by or for the ensemble, including pieces by Michael Pisaro, Billie Howard, Kenn Kumpf, and Nomi Epstein.
Founded in 2010, a•pe•ri•od•ic's repertoire explores the indeterminacy of various musical elements including instrumentation, structure, pitch, and/or duration. Drawn to works of sparseness, contemplation, and quietude, this "daring group" (Chicago Reader) has a history of interpreting distinctive pieces using a collaborative rehearsal process, deriving meaning and intention from oblique prose scores with great sensitivity.
Led by Nomi Epstein, the ensemble has commissioned, premiered, and recorded works by composers such as Michael Pisaro, Eva-Maria Houben, Jürg Frey, James Saunders, and Pauline Oliveros. a•pe•ri•od•ic released its debut album, more or less, featuring the music of Jürg Frey in 2014 under New Focus Recordings. The ensemble has received funding from the Swiss Arts Council, the Earle Brown Foundation, the Goethe Institute, and the Foundation of Contemporary Arts. Members of a•pe•ri•od•ic hold graduate degrees in music performance or composition from Chicago-area universities and conservatories, and are featured in other Chicago-based groups including Ensemble Dal Niente and Outer Voices.