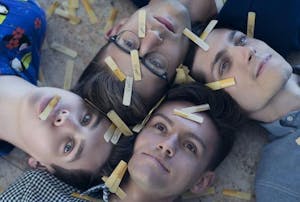 Frequency Series Presents
~Nois//F-Plus
Chicago's rising saxophone quartet ~Nois and the trio F-Plus return to the Frequency Series to play new works.
~Nois
Brandon Quarles
Hunter Bockes
Jordan Lulloff
János Csontos
Fresh off a tour of California and Arizona, ~Nois returns home to the Frequency Series. This program features the Chicago-premiere of LA-based composer Nina Shekhar's "eastbound," an intense new piece commissioned by ~Nois. ~Nois and Nina met at Eighth Blackbird's Blackbird Creative Lab in 2018 where they were also introduced to the music of Viet Cuong, an alumnus of the 2017 Lab. A recent performance by ~Nois of his "Prized Possessions" was heralded as "a banger" by I Care If You Listen, and this one promises to be the same. LA-based A.J. McCaffrey's "Ventilator" will have you gasping for air as the quartet breathes to life the piece's Chicago-premiere. ~Nois will also pay tribute to one of Chicago's finest composers and citizens with a performance of Augusta Read Thomas' electric "Squeeze." www.noissaxophone.com.
"Technically superb and musically brilliant" -- clevelandclassical.com
F-PLUS
Kate Dreyfuss, violin
Andy Hudson, clarinet
Joshua Graham, percussion
F-PLUS is a violin/clarinet/percussion trio committed to building a true repertoire for their unique instrumentation. Dedicated to working with exciting emerging and established composers, the trio has received grants from Chamber Music America, the Barlow Endowment, and the New Zealand Arts Council to fund commissions, and to date premiered over thirty new works. Performances have brought the group to Carnegie Hall, the Art Institute of Chicago, the Great Lakes Chamber Music Festival, the Poetry Foundation, New Music Gathering, and universities throughout the country. This concert will feature the work premiere of a new work by Charlie Peck, F-PLUS' 2019 Call for Scores winner.
"There seems to be no limit...to the soundscape that could be achieved by this ensemble." (Cacophony Magazine)